From our friends at Boom!. Excuse us while we go preorder this at our comic book stores:
Munchkin #1 Main Cover by Ian McGinty
Munchkin #1 Chase Cover (1:99) by Evan Palmer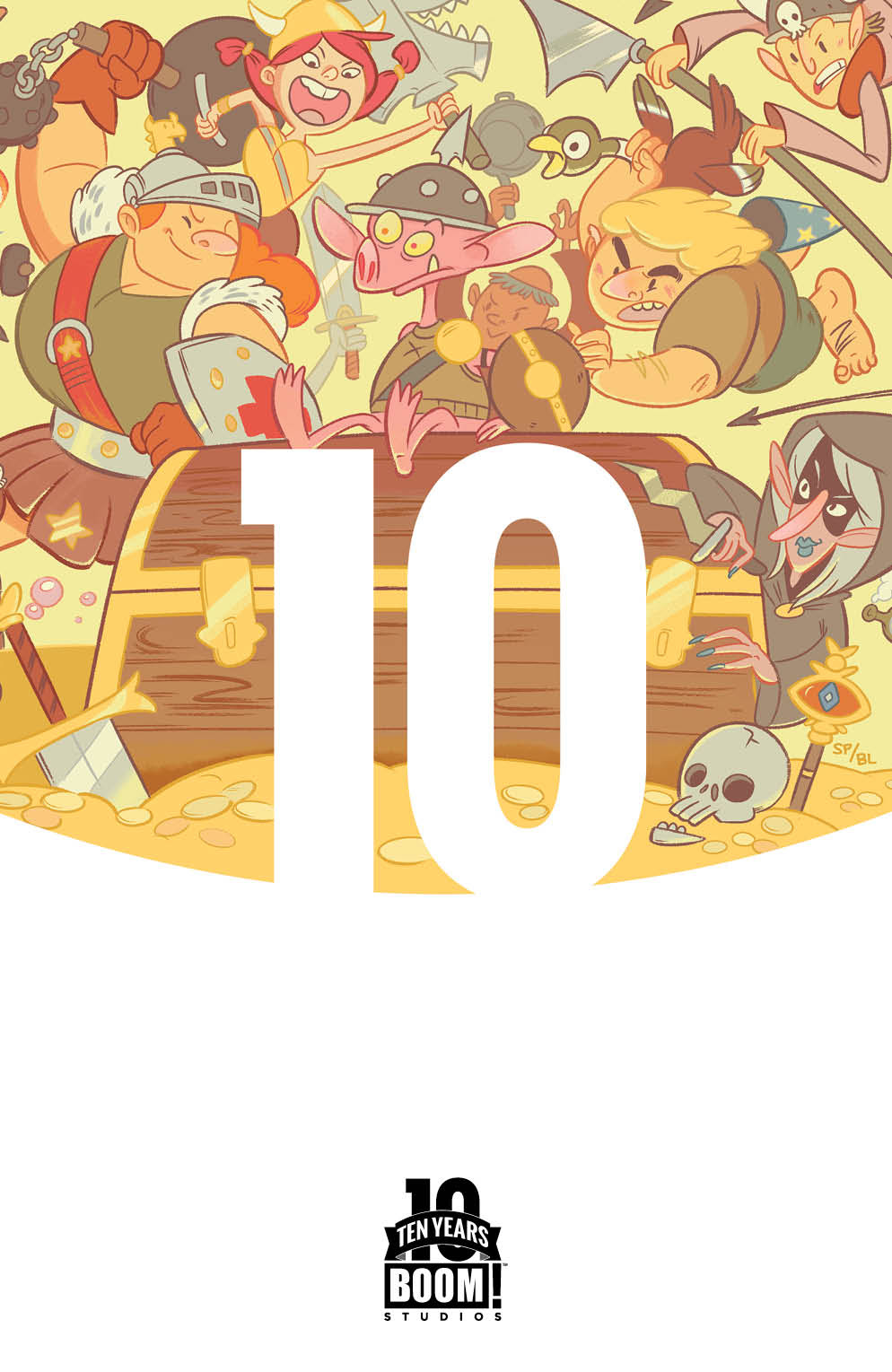 Munchkin #1 10 Years Incentive Cover (1:10) by Shelli Paroline and Braden Lamb
Munchkin #1 Retailer Incentive Cover (1:20) by John Kovalic

Pictured: Exclusive Munchkin cards from the first three issues
December 31, 2014 (Los Angeles, Calif.) – Kick open the door! Kill the monster! Steal the treasure! The world of Munchkin is coming to comics! BOOM! Box, an imprint of award-winning publisher BOOM! Studios, is thrilled to announce the January debut of the new ongoing series Munchkin, based on the best-selling card game about dungeon adventure created by Steve Jackson Games. Every first-printing copy of the comic will include a brand-new exclusive card that can be used in the game!
Writers Tom Siddell (Gunnerkrigg Court), Jim Zub (Wayward), and John Kovalic (Dork Tower), who is also the official artist of the game and illustrates his own stories in the comics, along with artists Mike Holmes (Bravest Warriors) and Rian Sygh (Teen Dog), translate the world of Munchkin into an adventure series where readers can join the power-hungry, emotional, and untrustworthy group as they continue the satirical battles made famous through the card game.
"We're big believers in publishing things that we love and have passion for," said BOOM! Studios Editor-in-Chief Matt Gagnon. "Munchkin lands firmly in that category. We're inviting our fellow Munchkin fans to explore this world, beyond what it says on the cards, in our new BOOM! Box comic book series. Plus, we have an exclusive card we're packaging with the first printing of every issue. Just to reiterate, these won't be found anywhere else!"
Based on the immensely popular card game, the Munchkin comic series takes place in a very flexible mashup of genres. Originally a satire of fantasy roleplaying, the game has since then taken on non-fantasy and non-gaming elements, and the new comic series builds on that. Munchkin #1 features four stories set in and around the world of the game, featuring Spyke and the other characters, monsters, and weapons that players have come to love.
Munchkin #1 arrives in comic shops from BOOM! Box on January 28th.